Are you ready to learn the training secrets of these top athletes?
I have trained some of the top athletes in the world, and now I'm offering you the same experience. Get ready for a renewed sense of the energy and health possible in your own life.

Subscribe today for 24-hour online access to my proven workout routines. You can fit effective and efficient exercise into your busy work and family life, at home or on the road. Start feeling better today!
SERENA WILLIAMS
Working with Serena at University of Georgia
WES WELKER
Trained Wes Welker when he played for the Denver Broncos.
BRYAN BROTHERS
Training the #1 Doubles team of all time with my PowerBands.
Ready to experience why, for over 20 Years, they have relied on my cutting-edge training methods?
Full body results. And not a second of your time wasted.
24/7 Instant Access to HALFHOURPOWER Workouts!
>
Weight Loss
With regular HalfHourPower training, you'll reduce fat and tone your entire body, especially abs and rear.
Core Strength
Core strength is critical for every day activities like walking or climbing stairs. It's also necessary for injury prevention, whether you're playing a favorite sport or picking up your child.
Sports Fitness
Recreational and competitive athletes will gain strength, control, and stamina, leading to greater skill and enjoyment of their sport.
Why I Use PowerBands
Bell Curve effect of weights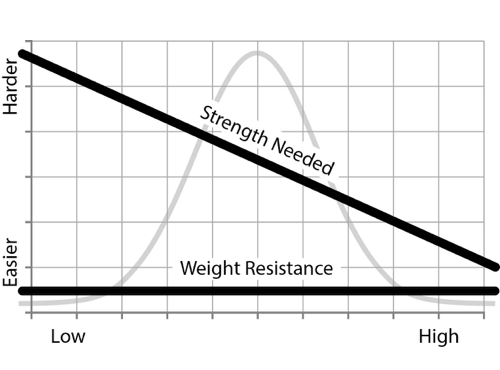 When you're strength training you start at your muscles' weakest point and end at your muscles' strongest point, but the weight is the same all through the exercise. Let's say you're doing a one-arm shoulder press with 20 pounds of weight. When you start the exercise your arm is next to your shoulder and commences the lift there, at your arm's weakest point. That's when injuries are most likely to happen!. Once you push through the sticking point and into your arm's power zone, the weight is still 20 pounds, but the leverage you have in that position makes it easier to lift 20 pounds than it was when you started the exercise. At your arm's end range, that 20 pounds will feel light compared to the first two phases of the movement and won't do anything to build up your arm muscles or work end range which is where all injuries happen.
Linear Effect of PowerBands
With power bands, you also start an exercise at your weakest point, but that's also when the bands give your muscles the least resistance. Perfect. Less chance of injury. As you go through the motion, you won't have to overcome a sticking point because the resistance increases in a linear, or ascending, fashion. That means at every point in the exercise, you're giving your muscles the maximum workout; as your arm moves into the power zone and then to end range, the resistance consistently increases. A power band workout works in perfect conjunction with the human body. And so does the effect of the exercise on your muscles.
Do you want to get results?

If you give me 15 - 30 minutes of your time two to three times per week, I will show you how to get your body looking and feeling great.


Real people, real results.
After doing the routine, my entire back, from my shoulders to my hamstrings, feels strong, stretched, and flexible. It's amazing each time I do it, and the effects keep adding up. Great for total well being and balance, too.
Nili - Attorney

HalfHourPower workouts have been the only program after my nine knee surgeries that has allowed me to enjoy the sports I love. I thought hockey, skiing, and tennis would be a thing of the past, however through Howard's workouts I can confidently say my knees are stronger than ever. I only wish I knew of this program 15 years ago.
Ehlias – Former U.S. Alpine Ski Team Member

I have been working out at HalfHourPower for years. HalfHourPower challenges me every time and has been the best workout for my tennis game. I believe this workout gave me what I needed to move up in my tennis level. I'm a 4.0 and HalfHourPower is a must in my work out routine.
Silvina – Tennis Player

HalfHourPower is revolutionary because it gives me a hard-core strength and cardio workout in 30 minutes – which honestly is all I have time for most days. Even more revolutionary is that I feel good when I'm done and have been injury-free for 8 months.
Karin - Business Consultant

As an aging guy (and not an athlete), I discovered HalfHourPower when I began to feel a lot of daily soreness and aches in my back muscles. HalfHourPower routines emphasize the whole core, with a combination of pushing, pulling, running, turning, and stretching that has improved my all-around fitness and makes me feel great all day. And my back pain is nearly gone!
Jay - Communications Specialist